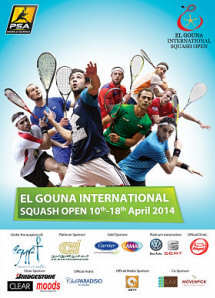 El Gouna EN BREFS
lots of little stories

TODAY at the El Gouna International 2014 ...
Fri 18th April, Day NINE - the FINAL
[2] Ramy Ashour (Egy) 3-1 [3] Mohamed Elshorbagy (Egy) 11/7, 12/10, 8/11, 11/8 (72m)
How do I feel? Never better

Overwhelmed. Definitely out of breath. And very happy with what Iíve done here tonight.

I think it was a great game.

Like Iíve said before, Mohamed is not only a great mover on the court, but also possesses super shots that he showed tonight. So, Iíll have to watch out for him!!!!

I am really glad to win the El Gouna Open for the second time. It's something I would like to give myself a little credit for as the amount of pressure on us as Egyptian players when there is a tournament in Egypt is huge due to the peoples high expectations which Iam glad that I lived up to. I'm proud I didn't let them down but on the other hand the amount of support we get from them here is something invaluable and we as Egyptian players really appreciate it a lot...

Also well done to Amr Mansi for a beautiful event.

Shorbagy played really well he seemed to be very relaxed and pressure free going for all his shots from all different areas of the court ...

I have to thank the team who helped me without them I could have never done it, first my academy players who came all the way from Egypt to support me, Thierry Lincou and Paul Sciberras, it's such an honor to be associated with such a respectful, down to earth, humble legend like Thierry and I am grateful for his time effort and passion...

Also Haitham Effat my personal feeder and National Team Coach, along with Omar Elborolossy our National Team Technical Manager , as well as Tarek Shamekh my Academy partner for being here for me for that tournament, also my chiropractor Dr Wael Habib for the amazing effort he is doing with me, and Richard Allison my nutritionist ...

... And a big thanx to my supporters on the social media, u guyz are great...

And finally I want to thank my sponsors Egyptair and Prince Squash for their continued support


RAMY IS THE CHAMPION, BUT MOHAMED PLAYED EVEN BETTER SQUASH TONIGHTÖ

On paper, it was a done deal. People around me kept saying, easy 3/0 for Ramy. Boy, they donít know Mohamed, do they. Not a clue. Bless them. I kept telling them that Mohamed would surprise them. To remember the final in Qatar in the Worlds where Mohamed had beaten the World Number one at the time, James Willstrop, in a monumental 3/2, and still had enough energy to lead 8/7 in the 5th against Ramy.

Never ever underestimate the power of Mohamed. Especially when he plays in Egypt.

Ramy on the other hand was fresh as a rose, bless his Prince racquet, but had all the pressure. And when you know the Artistís Demons, they must have been pretty loud tonight.

Those demons were actually quiet in the first two games. Ramy was playing a simple tactic. Make the pace not too fast, forcing Mohamed to generate it himself, and not absorb it and feed from his. Plus kept the rallies going as long and possible.

And the tactic worked. For a while. 7/7 in the first, hard work paying off, 2 unforced errors for Mohamed, and Ramy takes it in 18m, 11/7.

The second is much closer, although Mohamed take a great start, 4/0. Slowly, Ramy nibbles the advance, and levels it at 6/6. 7/7. 8/8. 9/9. Ramy gets a game ball, itís all over surely. But another stunning redrop Ė Mohamed has done a few tonight I tell you Ė and itís 10/10. One of the best rallies, Mohamed gives it the biggest push he can, but itís Ramy that finds the winners, and itís 12/10 in 25 long minutes.

And like Mohamed states, people are like, well, itís all over. BIIIIG MISTAKE. Shorbagy plays Iím not afraid to say the best squash of his life in that 3rd. And Ramy, who has lost a bit his game plan Ė playing far too quick to the front and opening a highway to his opponent Ė starts to chat with his demons. And as they are getting louder, Mohamed is moving faster, and better and the winners are pilling up. Ramy does his best to contain him but as a French song says ďA 160km/h, tu choisis pas ta routeĒ, ďyou donít chose your pathĒ. As Mohamed is taking the game to Ramy, who on this game just doesnít have the right answers.

Funnily enough. At the end of the game, I can see Tarek Shamekh, who came in El Gouna just to support Ramy Ė he is an old friend of the family, former top player U19, and coaches at Ramyís Academy Inspire Ė move from the back of the court, two seats away from me, and stays next to Ramyís chair, on the side. As him Ramy wanted to see him, to just have the mental support of a having a friend around.

Whatever they said to each other worked. Ramy, much stronger in the focus department, is able to stop the momentum, Mohamed again up at the start of that 4th, 3/1. Ramy equalises at 4/4, and thatís the turning point.

Yes, Mohamed will stay in touch with the score, but the fumes heís been running on are now completely dissipated. 6/4. 7/5. 8/6. 9/7. Ramy has got his nose in front. And wonít let it go to a fourth. Match ball at 10/7. A fast drive backhand that Ramy canít even touch. 10/8. This time itís Ramy that finds a beautiful drop shot, Mohamed canít get to it, plays it still, and just stops the play. He know his shot is not up. And he shakes his compatriotís hand.

Tonight, itís the whole of Egypt that won. Squash is the true winner. Because like Borg and McEnroe, those two just bring out the best out of each other. This is not a figure of speech. They truly do. And like Jahangir/Jansher battles, I think the World of Squash may see a few battles in the coming future.

I SOOOO LOVE SQUASH. WHAT A MATCH. WHAT A WEEK. WHAT A SPORT.
I gave it everything, I couldnít have given any more. No regrets.

I would never use the fact I had a long match yesterday against Ramy, because he is better than anyone arriving fresh in the final. But Iím happy because I pushed him to the limit. And I didnít want to give up.

What Iím the proudest of is the fact than when people thought I was tired and out for the count, I kept coming back. After I lost the second, people thought thatís it. But I won that third, and in the fourth, I could see he was starting to get worried about wining the matchÖ.

Of course, Iím still disappointed, itís a second final in a row I lose against him, the World Series Finals and now this one. And at this time in my career, I need to find solutions to arrive fresher in the final. For example, in the match against Greg yesterday, if I had been more aggressive in the second, took more chances, I could have been 2 love up, and that maybe could have meant I would have shorten the match, hence be fresher in the final. Itís those little things that make a big difference.

I think that maybe, looking at those last two finals, something new is happening to squash, maybe we are going to get to play much more finals. But then again, there are all the other players. Like Jonah keeps telling me, itís the strongest generation heís ever seen, with Nick, James, Greg, Ramy, so, he is happy that I keep competing with that generation, because later on, Iíll be using that experience against the players on my generation.

Now, there is the British Open coming up, and I want to win a big title this year. And this BO, Iím not going to let it go easyÖ.

Now, I want, I need to congratulate Ramy, he is such a great champion, and Iím happy that Iíll keep playing against him, because I know that heíll keep bringing the best in me. And I can promise that Iíll bring the best in him too.

For the thanks, of course my mum, amazing, she is my rock and my strength, my dad, he is my role model and my guide, my brother, he is the one that knows me so well, and always knows how to comfort and support. I wouldnít be anybody without them.

But a special thank you to Amr Mansi, thanks to him, we have a superb tournament in Egypt, and what about that closing ceremony. It really sets up the standard for the rest of the world. Shoukran Amr. For everything.



Of course very happy with the result. Ramy moved well tonight, he played very well for the first two games. In the third, I felt his concentration dropped a bit, and it allowed Mohamed to find some tremendous shots.

So at the end of the third, we decided that he had to keep the same pace he had in the first two, and that he had to stop a few shots that were opening the court completely for Mohamed and allowing him to do whatever he wanted.

All credit to Shorbagy, he really played a superb squash tonight. As he was bound to be tired, he had no pressure whatsoever on him, and even better, because he was tired, he played his best squash, and found some truly astonishing shots that he probably hadnít played before! Truly stunning performance from Shorbagy.

The great thing about Ramy, is that he just adapt on the court to whatís happening. He gets new elements, processes them, and adapt to them, changing his tactic and shot accordingly. He doesnít need anybody for that. Itís just instinctive.

I think itís really great that Ramy won here. He needed such a big tournament after all he went through at the end of last year.

And Iím not his coach. He is my little brother. We just talk about squashÖ. And tonight, Iím happy. Because my little brother wonÖ.


Ramy's 'older brother' & Inspire Academy partner /technical Manager

EN BREF: Issue 2