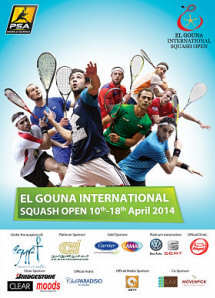 El Gouna EN BREFS
llots of little stories


TODAY at the El Gouna International ...
Tue 15th April, Day SIX - Round Two
The first session of the day at the Movenpick saw two English and two Egyptian winners. Peter Barker and Daryl Selby both won in straight games, although Barker was tested in all three by Marwan Elshorbagy, while Selby's comeback from 0-7 in the second took the wind out of Nicolas Mueller's sails.

Karim Darwish was delighted to end a run of disappointing results as he came through a five-game tussle with LJ Anjema, while Omar Mosaad came from a game down to create a big upset as he beat fourth seed Borja Golan in four.


There were no surprises in the evening matches on the glass court at the New Marina as France's top seed Gregory Gaultier, plus Egyptians Mohamed Elshorbagy, Amr Shabana and defending champion Ramy Ashour all won in straight games.

The tournament will now be played out exclusively on the glass court, starting with the quarter-finals tomorrow night.

Round Two:

[7] Peter Barker (Eng) 3-0 Marwan Elshorbagy (Egy) 11/9, 11/8, 11/9 (45m)
[8] Daryl Selby (Eng) 3-0 Nicolas Muller (Sui) 11/9, 11/9, 11/5 (44m)
[6] Karim Darwish (Egy) 3-2 Laurens Jan Anjema (Ned) 7/11, 11/9, 6/11, 14/12, 11/4 (68m)
Omar Mosaad (Egy) 3-1 [4] Borja Golan (Esp) 8/11, 11/5, 11/8, 11/9 (68m)

[3] Mohamed Elshorbagy (Egy) 3-0 [Q] Mazen Hesham (Egy) 11/4, 11/4, 11/8 (39m)
[1] Gregory Gaultier (Fra) 3-0 Stephen Coppinger (Rsa) 11/6, 11/4, 11/5 (38m)
[5] Amr Shabana (Egy) 3-0 Tarek Momen (Egy) 11/3, 11/8, 11/7 (40m)
[2] Ramy Ashour (Egy) 3-0 Simon Rosner (Ger) 15/13, 11/8, 11/6 (47m)

[7] Peter Barker (Eng) 3-0 Marwan Elshorbagy (Egy)
11/9, 11/8, 11/9 (45m)

PETER HUNGRY

Like yesterday, a very strong performance from the Essex man. All the games were very close indeed, but Marwan mentally needed one of the first two….

First game, very close score wise, and Peter made it very hard for his opponent. As ever. He gets to game ball at 10/7. Some nice winners come quickly from the Egyptian racquet, but Peter takes it 11/9 with a splendid attacking boast.

In the second, Marwan is paying the efforts of the first game (and the matches he had to qualify) and finds himself 8/2 down. Giving it a bit push, he claws back to 8/9, but again, Peter has got that little "je ne sais quoi" that gets him the edge, 11/8.

The third, Marwan again gives it all, while Peter maybe drops a bit in energy, 7/3 for Marwan. But Pete is in no mood for a long match, and closes it down coming back to 8/8. 9/9. It's still possible. But with two beautiful backhand drop shots, quite similar, Pete gets to play on the glass court in the beautiful setting on the New Marina…

I've played him before, and it went to 5, so today, absolutely delighted to win 3/0 against such a talented and upcoming player, especially here in Egypt.

When I looked at the draw and saw I was playing at the Movenpick, I felt a bit aggrieved, but actually, after seeing the way both courts play, I prefer that court after all. The other court will get worn in, so it will be fine.

We both played well, but in the third, I felt we were both getting tired, but I was economical and he lacked the power to get to the corners. He had a lot of squash in the legs, coming from the qualifying, and I think that made the difference as well.



Both times we played, it went to five, so a bit disappointed today. I had a game plan but at the crucial points, at the end of each game, he showed how experienced he is. He played very well, putting me under a lot of pressure and I didn't have many options.

Maybe I could have played a bit better, but it's all credit to him if I didn't.


[8] Daryl Selby (Eng) 3-0 Nicolas Muller (Sui)
11/9, 11/9, 11/5 (44m)

WHAT IS IT WITH THOSE ESSEX BOYS!!!

Blimey. If you are used to see Daryl Selby as laid back as it comes, playing the ball at a nice steady pace, very solid at the back, and killing off his opponent after 2h plus of match, well, you were in for a shock.

Basically today, Daryl took Nicki by the throat from the first rally and didn't let go. The pace was Olli like, the attacks Nick like, and the movement Ramy like!

In other word, I'm pretty sure Nicki didn't have that in his mind when he planned his tactics against Daryl.

First game, Nicki playing a bit of catch up after a good start though, Daryl leading 7/4. The Swiss comes back at 7/8, but the rallies are pretty long and very intense, like I said, played at a very fast pace. Game ball for Daryl at 10/8, one saved with a lovely kill backhand, but after a huge rally at 10/9, Daryl seals of the game by a crosscourt kill, 11/9.

And then the turning of the match. Daryl, a bit tired at the start of the 2nd, finds himself 7/0, and looking pretty out of sorts, while Nicki is soaring comfortably. But as the "Old Nicki" would have gone, the gap got shorter and shorter, to disappear completely at 8/8! I could see in the Swiss eyes how angry he was with himself, how frustrated. And it showed in his game, if not in his behaviour at all, at 9/9, he just doesn't move well enough and is penalised by 2 strokes, 11/9 again.

Mind's gone, Daryl is playing with even more confidence and positive shots, he is truly dominating the rallies and sending the Swiss to visit the court so many times. Frustration grows for Nicki, trading 4/1 9/4. At that point, a huge rally that end with the tin, and he bangs his racquet on the floor 4 or 5 times (those Wilson frames are pretty solid I tell you!). 10/4. A nice winner to save a match ball, but Daryl is the winner, 11/5.

Hungry Daryl? Yes, like Peter, I guess they are not feeding them in Essex…

Yes, you are right, my game has changed a lot, but the way the game is moving, with the boys at the top really pushing the level up, the game has never been as fast as it is now. So if you don't want to be left behind, you've got to keep up with them.

I've been working on that, I really want to be on the top 8! And with performances like that, when I really take the game to my opponent, I'm on the right track.

I'm happy, first and foremost because I won against Nicki who has a run of good form, but also because it's a 3/0…

Now, tomorrow there is another game, but for now, I'm enjoying the fact I'm moving well, I'm moving as well as I know I can move.


[6] Karim Darwish (Egy) 3-2 Laurens Jan Anjema (Ned)
7/11, 11/9, 6/11, 14/12, 11/4 (68m)

GUTSY KARIM

If Karim impressed me on several occasions, I don't think he impressed me more than what he did today. To be fair, I had LJ wining 3/0, 3/1. Well I saw Karim yesterday, and it's obvious that he is not as fit or match fit that you need to be at that level of the game.

And his game is not as flashy as other Egyptians. Karim bases his squash on a solid back of the court game, with the drop shot that is just good because there is a lot of space between his opponent and the ball. So, if he is not fit enough, and not focus enough, his length game goes pear shape, and he just cannot finish the point safely.

And that's what happened a bit in the first 3 games. In my mind, when LJ took the 3rd comprehensively, that was the end. But "que nenni". Nope. Karim, hearing his little boy chatting happily outside the court, just had the incentive he needed. He wouldn't go quietly in the El Gouna Sunset. He would get to live to play another match in front of his home crowd.

And as a miracle, in the 4th, Karim's game just came back. The length and width put LJ further and further from the ball, the Egyptian had more and more options to chose from, and LJ just had to work harder and harder to get to the attacking shots and lovely lobs.

LJ didn't do a wrong move the whole match. Playing an excellent tactic, accurate and fast, he really put his opponent as much pressure as he could. But the "playing an Egyptian in Egypt, who happened to be number 1 a few years ago" came into play, and in the 4th, the hunger, the desperation, the determination was today on the Egyptian side. Karim fought 5 game balls to force a decider, whereas LJ never managed to get a single match ball.

And in the 5th, Karim just took an excellent start, just looked rejuvenated and with two Yalla, walked through the finishing line.

I'm tired……

I'm glad to get to the glasscourt tomorrow, this court is nice but hard on the back and knees for old people like me…

You know, I just forgot the feeling of winning. Between the games, I was just trying to remember that feel you get from winning rallies, so I tried and enjoy my squash and winning points!

But life is fair, I have to train and dedicated myself 100% if I want to win matches. If I don't, then I lose in the first round, only fair.

And I have forgotten what it is to win and get to the quarters of a World Series. I hadn't for a long time, after reaching them for 8 or 9 years. It's feeling good…


Omar Mosaad (Egy) 3-1 [4] Borja Golan (Esp)
8/11, 11/5, 11/8, 11/9 (68m)

"WIN QUICK LOSE QUICK"…

Like Mrs Shorbagy said yesterday, this match was a "win quick lose quick" style of play. Short and intense the rallies were. A lot of stop and start, as they both seem to have trouble getting to the ball. Actually, Mosaad was warned not to get to the ball too early, as he was creating interference. And he was warned as well not to take his opponent out. He was penalised a few times, but for most of the match, we had a few too many lets to make it a match to remember.

Mosaad was in the mood for beautiful shots in the front corners today. Borja placed a few nice himself, but the trick of "being an Egyptian playing in Egypt" just worked wonders for the Hammer of Thor…

First game, Borja was pretty comfortable, and it looked like we were going for a quick Spanish victory. But the second was the mirror of the first one, Omar comfortable, and placing his shots nicely.

Third, Omar flying to a 5/0 6/1 10/3 lead, when suddenly, Borja found some stunning squash/squash/movement. And only 1 error from Omar, it was all Borja playing superbly. And although Borja bowed at 11/8, he had the momentum back. That was clever.

So the 4th starts, 1/1, 3/3, 5/5, 6/6. 7/7. Very close indeed, and the discussions between Borja, explaining that he just cannot get to the ball and the ref are getting more and more frequent. Omar is controlling his nerves very well, and gets 2 points cushion 9/7, and will get 2 match balls at 10/8. A no let for a delicate backhand drop shot saves one, but the same shot wins the match. 11/9 Mosaad.

In the third, you know, it's like when you plan your match, you apply your game plan and it working wonders. And you find yourself leading 5/0, 6/ and suddenly, you think, oh it's ok, now I can maybe cut a few corners, make my life easier and go for shots. And that when you find yourself making mistakes! Plus, Borja started playing very well again, found a few nice shots, and I was lucky to get that one….

After the 3rd, my two coaches, my brother and Haithan Effat told me to calm myself down, and to take one point at a time. It worked well for a big part of that game. Then we had a few discussions with the ref. But I eventually won the last point…

I'm so happy to get to the glass court, I'll be playing an Egyptian though, either Shabana or Tarek…


[3] Mohamed Elshorbagy (Egy) 3-0 [Q] Mazen Hesham (Egy)
11/4, 11/4, 11/8 (39m)

YOUNG WOLF OLD WOLF

Funny to call Mohamed an old wolf, as he is like 12, but that's what happened on court today. On one side, you have young Mazen, #35, what want to get higher in the ranking, and on the other side, Mohamed, world number 3, with whom he had a pretty tough game in Cairo last November . A few words were exchanged on court then. And I guess they just pick it where they left it.

In the middle of the second, Mazem celebrated a point won a bit loudly. So Mohamed asked the ref what the score was, several times. Then turned to us and said that he thought it was match point or something with the way he was behaving. Then started to speak to Mazem in Arabic. Mazen tried and stayed in the match, asking Mohamed to keep quiet, but Mohamed kept chatting, trying obviously to make a point.

Note to central ref: when you see a situation like that happening, STOP IT. DO YOUR JOB. STEP IN.

Anyway, the game went on, with Mazem trying to keep his calm while playing squash, and Mohamed "enfonçant le clou" "hitting the squash nail deeper and deeper".

At the end of the day, Mohamed is still the Sheriff of El Gouna, and even if it feels like the end of the world for young Mazem – a pretty intense and passionate character like I love them - nothing really bad happened.

He is a great player, I completely respect that. I was once 20 [Mohamed, you are 23, note from Fram] and hungry and playing each point as if it was a match ball. But I've learned quickly that sometimes, you don't want to show it to everybody, you keep it inside.

He is coached by Karim Darwish, one of the best players Egypt ever bore, so he'll learn quickly too.

But basically, I didn't like the way he behaved with me in Cairo. There is a difference between wanting to beat me, I want him to want to beat me, and disrespecting your elders. I have done it, I did it to Shabana in Hong Kong, and he punished me, and I learned… So it was not clever to make a top player angry against you, a player that can give you a squash lesson. Because today, instead of preparing myself for a normal second round, I prepared myself for a final, and I gave it my 200%.

But like I said, he will learn, and he will be getting very high in the ranking very quickly, and I'm really happy to beat him 3/0 while I still can!!!

Tomorrow, I'm going to play against a player I have a lot of respect for, we always have huge battles, last time I was 3/2, and I hear he is in great form, he beat my brother today 3/0. So I hope we'll have a great match tomorrow, as we always have….



First of all, I want to apologise to everybody, my coaches, my mum, my family. I want people to enjoy squash, to enjoy when I'm in the squash court. When we played in Cairo last time, we had a few problems on court, and today, it sort of kept going.

I respect Mohamed's achievements, but I think I deserve respect too. I'm not a weak person. I don't want anybody to think I'm weak, and I am not afraid to stand up to anybody.

Now, what's on the court stays on the court. Still I'm going to think a lot about what happened today. I really want to say sorry to the sponsors and everybody that was watching. Next time, I promise I'll let the squash do the talking.


[1] Gregory Gaultier (Fra) 3-0 Stephen Coppinger (Rsa)
11/6, 11/4, 11/5 (38m)

Gaultier painfully through

After suffering a double injury in his first match - a poke in the eye that hampered his vision, and a dead leg that left him limping through the closing stages - it was going to be interesting to see how top seed and world number one Gregory Gaultier fared tonight against the in-form Steve Coppinger.

After a couple of errors each, and a couple of strokes going either way, the Frenchman allayed any major fears as he moved smoothly ahead from 2-4 down to take the first 11-6, controlling the short, and the odd long rallies.

He was in charge in the second too, converting a 6-1 lead to double his advantage 11/4, and carried the momentum into the third.

As Gaultier hit a crosscourt to go 3-1 up in that third he winced and hopped around a little on that leg. Whether Coppinger noticed or not, he took the next three points to lead 4-3, but Gaultier wasn't keen on an extended match and upped the pace, forcing Coppinger into the corners and forcing mistakes out of the under pressure South African as he completed the win 11/5.

"The eye's not a problem, it's the leg," admitted Gaultier. "I've spent two days trying to recover, not even stepping onto court, and I really didn't know if I'd be able to play tonight.

"It's painful, but I'm pleased that I managed to play through it, thanks to the help from my coach and physio, I wouldn't have been able to play without their help.

"I hadn't played Steve before, but he's had some good results recently so I knew I'd have to stick to my game plan and I was happy to be able to do that.

"It's going to be painful for the rest of the tournament, but as long as I can play I'm happy!"



He is a very intense character!

I'd wished I played better, I know he put me under a lot of pressure, but still I didn't play well. I couldn't hold the middle like I like to do, and I couldn't hit my targets at the back at all.

What is he doing well in particular? He is world number one you know, he is doing everything pretty well…


[5] Amr Shabana (Egy) 3-0 Tarek Momen (Egy)
11/3, 11/8, 11/7 (40m)

SHABANA JUST ABOVE

Maybe Tarek was still tired from his battle with Fares Dessouki last night (a long 5 setter), but Shabana looked bleeping good I must say.

Very composed and focuses, playing an immaculate squash, and at times I'm afraid to say despatching a bit of a squash lesson to his younger compatriot, Shabana never looked under pressure.

Yes, Tarek played some lovely long drop shots, and conterdropped beautifully. And not too many unforced errors either. But there was always in my mind only be one winner tonight. Too accurate. Too lethal. Too Shabana.

I had to keep it tight today, although he had a hard match yesterday I know he could come back in the third, so I made sure I was taking it point by point.

As I'm now in the middle of my thirties, the physical side of things is very important so I'm working on my fitness and to try and stay strong to compete with those youngsters.

Yes, I'm playing the whole of the Egyptian Team. I guess I have a point to make as I haven't been playing in the Egyptian team for a few years, so maybe if I play well here, I may get to play for the Team one day…


Tonight, I tried and mixed it, but when you slow down the pace like that, you've got to be 100% accurate, because anything loose, he'll kill it.

At the end of the match, I am not happy as I went too quick at the front, but for the first two games, I thought we were both playing well. But like I said, at the end, I was trying to finish it too early. Maybe I was a bit unlucky at the end of the first, but you don't know what's really happening when you play such an intensity of game….

I have such huge respect for Ramy, we've been playing each other since we are 10 years old. And to see his movement now, after being so unlucky with so many injuries, I truly take my hat to him, respect.

Of course I'm disappointed, especially by the end of the last game..



[2] Ramy Ashour (Egy) 3-0 Simon Rosner (Ger)
15/13, 11/8, 11/6 (47m)

INTENSE YET SLOW TACTIC

Tonight a superb match from Simon as every when he plays against Ramy (in particular!). Funny fact: both first and second game, Simon was up 3/1 then Ramy 8/4. Only difference. In the first, Ramy was caught up at 8/8. In the second, Simon only managed to claw back at 8/7… but strange how they went the same path…

Back to the first, Ramy looked in control at 8/4, but Simon just played some superb counterdrops that found the target nicely, to really offer us a splendid game, full of attacks/counterdrop/fast movement/visiting the four corners. Only look at the score from 8/8 to 13/13, not more than a point between the players, Simon got 2 game balls, Ramy transformed the 3rd.

From 10/10, actually, Simon reaaaaally slowed down the pace, forcing Ramy to produce more pace, and in the second, he kept on varying the pace superbly. Lobs started to fly, drives, patience, mixed with ridiculous squash. But if Ramy got himself caught in the first at 8/8, this time, Ramy kept him at bay 8/7, 9/8. A few video reviews at the end there, but Ramy takes a good advantage when he wins the second one 11/8.

The third is all about Simon. Leading 5/1, like he admits it himself, he played the wrong tactic and went too short, probably was a bit tired from the first two, and wanted to save energy without realising it. And from 6/4, he got stuck behind Ramy and just couldn't stop the haemorrhage of points, 6 in a row, Ramy wins the 3rd, 11/6.

He's always playing so well, he's been improving dramatically over the past months, and has been threatening the top players, tonight, he was playing like.. a maniac really!!!! So against him, every shot counts, every point counts.

I am so lucky to work with Thierry Lincou, the Legend. When he was playing he was really one of my role models, his consistency, character and control on and off court inspired me. And I had so many injuries, now I'm just trying to get my body to function like a normal athlete. So at the moment, I'm working with Thierry, I have in my support group also Omar Elborolossy and Haithan Effat, our two national coach, and my friend/coach Tarek Shamekh. So I have very little to complain about!!!