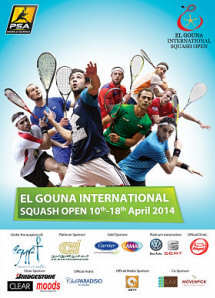 El Gouna EN BREFS
lots of little stories


TODAY at the El Gouna International ...
Wed 16th April, Day SEVEN - QUARTERS
Quarter-Finals:

[3] Mohamed Elshorbagy (Egy) 3-1 [7] Peter Barker (Eng) 11/8, 11/6, 3/11, 11/3 (56m)
[1] Gregory Gaultier (Fra) 3-0 [8] Daryl Selby (Eng) 11/3, 11/2, 12/10 (45m)

[5] Amr Shabana (Egy) 3-1 Omar Mosaad (Egy) 12/10, 8/11, 11/4, 11/8 (65m)
[2] Ramy Ashour (Egy) 3-0 [6] Karim Darwish (Egy) 11/7, 4/0 rtd (16m)

Shorbagy and Gaultier through to semis
as Shabana and Ashour guarantee home finalist


The first two quarter-finals saw the end of English interest in the event as Mohamend Elshorbagy and Gregory Gaultier beat Peter Barker and Daryl Selby to set up an enticing semi-final.


Shorbagy took a two game lead over Barker, who fought back strongly in the third, but mid-way through the fourth seemed to pull or twist something and he barely contested the final few points.

Gaultier was in imperious form in the first two games against Selby, and although the Englishman held his own throughout the third it was the world number one who got the better of it in extra points.

The bottom half of the draw featured four Egyptian players, so a home finalist was guaranteed. Four-time world champion Amr Shabana edged a close four-game tussle against Omar Mosaad while defending champion Ramy Ashour was leading by a game and 4-0 when Karim Darwish pulled up injured.


[3] Mohamed Elshorbagy (Egy) 3-1 [7] Peter Barker (Eng)
11/8, 11/6, 3/11, 11/3 (56m)

SLIPPERY CONDITIONS

What a shame. This tournament was going so well, conditions wise, not a trace of sand or humidity on site. But tonight, it started with an invasion of flies, then the humidity Ė that was dried by a nice breeze the nights before Ė just fell on the court at the start of the second.

The first, Peter took an excellent start, 3/0, but Mohamed equalised quickly and from 4/4, kept his nose in front to get to game ball 10/6. Peter saved 2 game balls but Mohamed takes the opener in 13m.

The second is more dominated by Mohamed at the start, Peter will equalise at 6/6, but Mohamed flies to the end 11/9 in 10m. Well he flies as easily as Peter will in the 3rd,11/3 in 10m.

During the 2nd and 3rd, Mohamed slipped twice in the backhand corner, and Peter just stopped the rallies (instead of just taking the point as he would have been entitled to) and let were played.

Unfortunately, in the 4th, at Mohamed led 6/3, Peter slipped on the way to the back corner, and his left leg was clearly impaired. As a mark of respect for his opponent, he finished the game/match, but itís obvious that one of his injuries has flared up (not sure if itís the knee or calf).

I just hope that itís a little niggle. With the British Open and the Commonwealth coming up, like Adrian a few days ago, the English players really want/need to be fitÖ

As for Mohamed, it was a bit of a funny match, with a funny pace, and Peter never really feeling comfortable, while Mohamed seemed to feel the pressure of playing in front of his homecrowd. Thatís what it looked like anywayÖ

Feeling really happy to win the match. The conditions were very tough, it was very hot and humid and there were mosquitos [flying ants] everywhere. The court conditions were very hot, which he likes, but also humid, which is was a bit difficult and you just have to deal with those things and find a way to win, which is what I did.

I have a lot of respect for Pete. Heís a great player and the last time we played he was 2-0 up against me in Detroit so I knew it was going to be tough and I hope that nothing too bad has happened with the slip he had in the last game.

It means a lot to be in my first semis in El Gouna. Iím really happy to be here and to be playing in front of my father and my mother so Iím just enjoying it and hopefully I can enjoy tomorrow as well.

Like I said, tough conditions, who ever was taking the lead at the start of the game would have a massive advantage. Iím happy the way I came back in the 4thÖ














[1] Gregory Gaultier (Fra) 3-0 [8] Daryl Selby (Eng)
11/3, 11/2, 12/10 (45m)

DARYL NEVER GAVE UP

Funny as the minute the first match finished, the wind came back, a very light breeze, and the flies just left. And the slippery conditions just disappeared the same way, the breeze just dried it out, and the court attendants were only occasionally called forÖ Strange isnít itÖ

For this match, donít look at the score, it doesnít tell the whole story. Look at the times of each game, 12m (11/3), 10m (11/2), 13m (12/10)! Daryl worked as hard in the third than he did in the first two. He just scored more pointsÖ

Gregís pace (mid) and accuracy at the back was preventing Daryl from attacking as well as he wanted I feel. Also, I donít think he was moving as freely as he did the day before (maybe his back was bit stiff to start with, and warmed up as the match advanced).

In the third, probably Greg relaxed a bit, while Daryl gave it a big push. The long drop shots that used to find the tin at the end of long rallies suddenly found the nick and Greg had to work bleeping hard to stay close score wise. And although Daryl didnít manage to get a game ball, he saved a match ball at 9/10 with a superb winner, and only exits the tournament with the honours, 12/10 in that third. A truly good battle. Once again, ignore the scoreÖ

I was playing at a good pace in the first two, but I donít think I was as accurate as I was yesterday. But that is all credit to Daryl that was handing in there. At the end of the second, I think he maybe was getting tired. But in the third, I probably relaxed a bit, Iím not sleeping as well as I would like, and sometimes I can feel a bit of tiredness is coming through I think. But he played so well in that third. You could see he forgot about losing or winning, and that he was letting the arm go and found some great shots.

But I kept working very hard, I fought for each point, even if I didnít feel at my best in the legs and/or in the head!

Tonight, the conditions were tougher than the previous days. There was no wind, so it was not as fresh air as before, and sometimes, your head was getting very hot. Plus the mouskitos! I donít know what was worse, the mouskitos or no wind! I say mouskitos actually!!!

My leg is still not right, itís going to take a few weeks. I know it was definitely an accident, and Iím not in any way saying it wasnít, but if he had hit me just a bit higher, it would have been very dangerous for my cross ligaments. So I talked with my physios immediately, who told me what to do, so for the past two days, Iíve been icing it and doing some Compex (electric waves). But Iím just happy I can play as only walking is painful! Still I think that playing and the bike is good for the draining, so, itís going to get better eventually.

Iíve been working so hard for the past three years to try and prevent those repetitive injuries, and you know, itís always in your head. Accidents happen, and you think about it all the time. We are professionals, we just learn to deal with it.


[5] Amr Shabana (Egy) 3-1 Omar Mosaad (Egy)
12/10, 8/11, 11/4, 11/8 (65m)

OMAR TOO INCONSISTENT

ďThe day Mosaad will be consistent, the world of squash will trembleĒ.

Thatís what I think anyway! Yes, that boy plays superb squash, that put under pressure everybody, from Ramy to Ashour to every top player on the PSA.

What saves the guys is that he is capable of the best and of the worst. And he normally starts going for too much, and strings the unforced errors like he does the delicate feathery winner from outside the court bless his racquet.

Shabana did his job well. Keeping his calm and the tins at a minimum, reading the game as very few can, he saved his energy, economical in his movement, and yet so lethal in the 4 corners. He just went into Mosaadís brain, and twisted it aroundÖ.

I know Iíve said it before, Shabana is like Paris, itís only when I see him that I realise how much I miss him.

I have to train extremely hard, because itís tough to keep up with those young kids! And to beat them, youíve got to utilise the whole court, use the height and width to defeat them.

It took everything I had to beat Omar today. Considering itís my third match on the glass court and his first I didnít expect him to have such good timing and he made it really uncomfortable for me out there.

I had to go back to basics and play a basic length game and it took everything I had to go through.

Iíve seen him transform from a junior to a top player and he works a lot on his movement and heís very technical. Heís very subtle in the way he plays for a big guy and if youíre not careful he can make you look average. heís reached the top 10 and has been knocking on the top for a while. It was hard conditions tonight, and I had to stay focus at all times because with the way he plays, if you lose your concentration level, you never get it back.

I think he has a wonderful future but today I won, so Iím happy.

ďIíve put in a lot of hard to work to reach the semi-final and thankfully itís paying off. We all put in a lot of hard work but it doesnít mean you are going to win so itís nice to get the rewards.

Iím not the favourite anymore, itís nice to play under the radar, they have the pressure now, and itís their turn to carry the flagÖ.

















[2] Ramy Ashour (Egy) 3-0 [6] Karim Darwish (Egy)
11/7, 4/0 rtd (16m)

KARIM ONE MATCH TOO FAR

I had the feeling something like that could happen. Karim produced two amazing performance on the hard traditional court of the Movenpick, two days in a row. The last match, I said it, was a stunning performance against LJ, fit as it comes and Karim had to dig in the ďold bones, joints and musclesĒ to shake the Dutch off.

He paid the efforts today.

After producing an excellent Ė to say the least Ė first game against Ramy, he just threw the towel at the start of the second, the hamstring niggle he had contracted yesterday against LJ became a massive hurdle and he had to ice it right after leaving the court.

Such a shame to see him injured again, but isA, weíll see him in Hull for the British Open in a few weeksÖ

Itís not the way you want to win a match, there is something wrong with his hamstring, I know how hard and frustrating it is, Iíve been there enough to know.

He is such a great player, and in the first round I just did my best, I did what I thought was best, we always had such huge battles together, fighting hard all the way. He is a great champion, heís been world number one and at the top for so many years. Huge respect for him.

But I canít let loose and think about today, I have to stay in the tournament mentally, as Iím playing against another great tomorrow, Amr Shabana, heís been world champion four times, he has a lot of experience, and I wonít let tonight go to my head. Last time we played it was a hard 3/2, he is 34, and I want to be playing like him still when Iím 34, God bless him. Tomorrow, I know Iím going to be out of breath the whole way, and Iíll just see how it goesÖ.