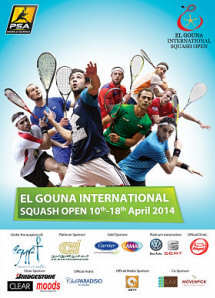 El Gouna EN BREFS
lots of little stories


TODAY at the El Gouna International ...
Thu 17th April, Day EIGHT - SEMIS
[3] Mohamed Elshorbagy (Egy) 3-1 [1] Gregory Gaultier (Fra)
11/6, 14/16, 11/9, 12/10 (112m)

[2] Ramy Ashour (Egy) 3-0 [5] Amr Shabana (Egy)
11/9, 11/5, 11/5 (36m)
Shorbagy and Ashour set up all-Egyptian El Gouna Final


Two contrasting semi-finals but two Egyptian winners as Mohamed El Shorbagy and Ramy Ashour delighted the packed crowd at the Abu Tig Marina in El Gouna to set up an all-Egyptian final of the PSA $115k World Series event.

Elshorbagy beat world number one Gregory Gaultier for the first time in an epic match that had the packed crowd a enthralled for almost two hours, and in rapture at the end, while defending champion Ashour, after taking a tight first game against Amr Shabana, eased to victory in straight games.

SHORBAGY ON THE TOP OF HIS GAME

I am not afraid to say this was one of the best games I ever saw. I guess the neophyte will say that the first two games were boring. They were some of the most amazing mastermind, tactical and gutsy performance ever. Tactical and mastermind from Greg. Gutsy from Mohamed.

First game, I would say Greg did a Peter Barker style of game. And it nearly worked. Meaning that he kept the Alexandria boy at the back and to the front, and at the back and to the front, twisting and turning him. Although the Frenchman lost it, he had done a lot of damages to his opponents legs in the 21 minutes that game lasted.

In the second though, Shorbagyís got the momentum. Again, gruelling rallies, superb variations in the speed, pace, height, and Greg is controlling the rallies. Still, Mohamed finds some great shots while Greg finds the tin, 6 in fact, up to 8/7. Then he stops them completely. Shorbagy, running a bit on fumes already, gets to game ball at 10/7. And hits the wall. Greg, feeling the tempo change, serves as quickly as he can, and put the pressure on the Egyptian. And it works. He claws back at 10/10.

From that point on, gruelling rallies doesnít start to describe the work those two did. Like Mohamed against James in Hong Kong or in the semi of the WO in Qatar. Yes, we are at that level of game and intensity. Greg will need 5 games balls, but he finally levels it at 1 game all, 16/14, in 49 minutesÖ

And it looks like the Frenchman is in the final, when Mohamed starts to go for silly shots, making a lot of errors, allowing Greg to run away with the score, 8/5. But Mohamed digs in. He digs in like very few champions can dig in. Mentally hurting, physically hurting, he just plays one more shot. And it works. Carried by a very knowledgeable crowd, not the vociferous we can have at times in Egypt, but a very fair one, he just nibbles Gregís confidence, and equalises at 9/9. Truly exhausted, he keeps asking for the sweepers to clean the court. Itís ďde bonne guerreĒ, you canít blame the boy for trying. And Greg, who can see how exhausted Mohamed is, is not happy and makes his feeling clear to the ref!

And those little seconds ďstolenĒ, are enough to allow the Egyptian to dig in deeper and deeper and deeper. When he clinches that 3rd in 16m, we all know that heís made a huge step towards the final.

Our feelings seem to find confirmation when Mohamed, full of the adrenaline that comes from leading 2/1, zooms to 5/0. But Greg is not gone back to Paris yet. He too can claw down. He too can dig in. And he does. And the crowd is supporting the squash, not just their man. 7/7. 8/8. Is Greg going to force a decider, and if he does, will Shorbagy have enough gas left?

Out of nowhere, Mohamed finds an 5th wind, and on his 3rd match ball - Basma his mum has not nails left, Hossam his dad has lost another stone, Marwan doesnít have a voice anymore - Mohamed just beat the World number 1 for the first time. Like he did to get to the final of the Worlds in Qatar 2 years ago. And like then, heíll play Ramy Ashour in the final.

La suite au prochain episodeÖ.

Greg is not the number one for nothing, Iíve played him 9 times, and this is the first time actually that I beat him. And to do that, here, in Egypt.. thanks very much for the support of the crowd. I couldnít have not done it without you.

It was two fighters fighting each other out, and he never gave up. Even in the 4th, I was up 5/0, and he was playing a bit of a mind games, telling me, donít worry, Iím not coming back and the next thing I know, Iím back to 8/8!

Iím so happy I made it in the end, and I canít believe Iím in the final!!!


[2] Ramy Ashour (Egy) 3-0 [5] Amr Shabana (Egy)
11/9, 11/5, 11/5 (36m)

RAMY FLYING IN EL GOUNA

Trimmed. Moving like a puma. Focused from the word go.

Ramy was up for this match. Shabana too. Although it took the Legend up to 5/5 in the first to use his favourite weapon, his length and width. Up to then, it was shootout at OK Coral, and at that game, Ramy is probably the best in the world.

So Shabana lengthened the shots, and of course, the rallies as well. Ramy, never losing his focus, only made one error. For who knows Ramy, only one error in the first game is nothing short of a miracle!!!!

1/1. 2/2. 4/4. 5/5. 7/7. 8/8. 9/9. At that point, Ramy plays a superb long drop shot, and on his way to it, Shabana makes one of the most amazing split Iíve ever seen a PSA player make! 10/9, game ball. A superb attack from Shabana on the right front corner, Ramy only gets to it, and saves it, I donít know how, Shabana doesnít know how, and I bet even Ramy doesnít know either!

First game under his belt, crucial for the young man.

In the second, he strings the points rapidly, and if the first game was 15m long, the second will be quicker, 7m, Ramy going 7/1 up, then 10/4 to take the game 11/5.

The third is basically an exhibition from those two. Once he is down 5/0, Shabana goes and plays his shots, entertaining the crowd and mesmerising Ramy. At 3/5, Ramy remembers that heís got a final to play the next day, and steps up with exhibition stuff of his on. In 6 m, he takes the game and match 11/5 on his third mach ball.

What a contrast that was with the first matchÖ.

He is such a great player I was so much admiration and respect for that Man. Every time you play against him, he comes up with something different, something heís never done before, he is just a miracle.

So what I tried to do today was to be flexible mentally, and adapt to whatever he would throw at me. And a win over him, 3/0, 3/1, 3/2, is amazing.

Iíll say it over and over again, itís the work Iím doing with Thierry Lincou that is making me that strong. I thought I have one of the best movement on the circuit, and I realise that I was completely wrong, now my movement is more economical, more explosive, more efficient, more fluid. But it takes a lot of work, Iíve been working really hard for the past 4, 5 months, and each rally, each point, I keep reminding myself how hard I worked to get there, and thatís what is keeping me going.

Tomorrow, Shorbagy, I wonít take him for granted, thatís for sure, the man is hungry, Iíll try and mind my fingers cause he might bite one of them!!! No, really looking forward to the finalÖ