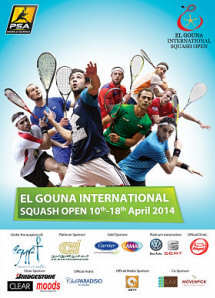 TODAY at the El Gouna International ...
Thu 10th April, Day ONE


The 2014 edition of the El Gouna International under way today with the first of three days of qualifying at the Movenpick Hotel.

All sixteen first round matches feature Egyptian players, and it will be a surprise if the hosts don't grab a big portion of the eight places available in the $115,000 PSA World Series main draw, most of which will be played out on the all-Glass court in the New Marina.

In today's play five home players made it through, with four of them - Andrew Wagih, Ali Anwar Reda, Mohamed Abouelghar and Omar Abdel Meguid - set to meet in Saturday's qualifying finals.

Longest match of the day was Jaymie Haycocks' 3-2 win over Shehab Essam while Mazen Hesham - the fifth Egyptian winner - raced through in just 14 minutes.

The last two matches of the day, both all-Egyptian,were a real contrast as Abouelghar saved two match balls as he beat world junior champion Karim El Hammamy in five, while Meguid enjoyed a few playful points before Marwan Abelnaby retired after just five minutes.
10-Apr, Round One Bottom Half:

[3] Grégoire Marche (Fra) 3-0 Saad El Din Ehab (Egy) 11/7, 11/7, 11/4 (30m)
[12] Jaymie Haycocks (Eng) 3-2 Shehab Essam (Egy) 11/9, 8/11, 11/2, 7/11, 11/3 (63m)

[13] Andrew Wagih (Egy) 3-1 Ahmad Alsaraj (Jor) 11/8, 8/11, 11/6, 11/7 (45m)
[7] Ali Anwar Reda (Egy) 3-1 Mohamed El Tabaa (Egy) 11/8, 10/12, 11/3, 11/8 (40m)

[5] Mazen Hesham (Egy) 3-0 Hossam Nasser (Egy) 11/4, 11/1, 11/1 (14m)
[15] Abdulla Al Tamimi (Qat) 3-0 Ahmed Atef (Egy) 11/6, 11/8, 11/7 (22m)

[10] Mohamed Abouelghar (Egy) 3-2 Karim El Hammamy (Egy)
11/6, 7/11, 10/12, 12/10, 11/4 (55m)
[2] Omar Abdel Meguid (Egy) 3-0 Marwan Abdelnaby Mahmoud (Egy) 2/2 rtd (5m)

[3] Grégoire Marche (Fra) 3-0 Saad El Din Ehab (Egy) 11/7, 11/7, 11/4 (30m)
GOOD PERFORMANCE FROM SAAD


First match of the day between French National Champion Grégoire Marche and local Saad El Din Ehab, 15 years old, training at both Sky Petrosport and Ma'adi Club.

This young player is not your typical junior, hitting everything at the back and refusing rallies. No. He is clever, he hits accurately in counterattack, but possesses already a good length and knows where to put the ball where it's going to hurt. A clever young man who wants a career in squash, and why not. He looks like he's got the hands and the brain to do so…

Little Greg – AKA the Acrobat – had to be focused the whole time as some rallies were pretty long. When he would relax a bit, his opponent would punish him. Never easy to play a young Egyptian in Egypt… Or anywhere else either!!
"I knew that I couldn't take him for granted, and I was right. We had some long rallies, and he was pretty solid for a 15 years old. He looks like a bit nonchalant as first, but actually, he is pretty quick!

As for me, I still find difficult to be fully ready for a 12 midday match! Now, I'm going to enjoy my day of rest – not common in qualifying – and prepare for my next match…"

Greg Marche
[12] Jaymie Haycocks (Eng) 3-2 Shehab Essam (Egy) 11/9, 8/11, 11/2, 7/11, 11/3 (63m)
UP AND DOWN…


Well, actually more of a "length or no length".

Shehab Essam Hosny, a very intense Egyptian that has a lethal backhand volley, moves pretty fast onto the ball, counterattacks well, and retrieves a lot…. Against experienced Jaymie Haycock, with some good fast drop shots and excellent fitness, that was bound to be a rather watchable match.

And it was.


I guess it all came down to who took the first one, it was the English match, 11/9, after a very close all the way game, 6/6, 9/9. Second was dominated by the Egyptian, 5/2, 9/4, who relaxed a bit then, Jaymie coming back with a vengeance, taking the next four points, but too late, 11/8 Shehab.

In the third, the Egyptian seemed tired, Jaymie wheezed through that one, 11/2. Excellent game from Shehab in the 3rd, 4/0, 8/6, the Englishman comes back close, 7/8, but again, like in the 2nd, too little too late, 11/7 for the Egyptian.

The fifth, well, Jaymie lost the first point, and really walked through the park, maybe a fitness problem for his opponent. Even a blood injury at 5/1 was not enough to give legs back to Shebab, and the Englishman finally takes it 11/3.

Very good match, fair and intense. Enjoyed it.
"I really didn't want it to go to 5….!

I saw him play in Sky in November against Eddie, and I saw how well he could play, so I knew it was going to be tough.

We massively lost our length at times, which explains the funny scores! He's got a very strong backhand volley, and anything played too quickly to the front would be punished.

I lost the first point in the 5th, so I was a bit edgy, and when he had that blood injury at 5/1, I told to myself, don't you lose 2 or 3 points in a row! But at 9/1, I started to relax a bit… Really happy to get through.

Jaymie Haycocks
[13] Andrew Wagih (Egy) 3-1 Ahmad Alsaraj (Jor) 11/8, 8/11, 11/6, 11/7 (45m)
COMING BACK TO FORM FOR ANDREW


After being injured for two months – his back – Andrew Wagih Shoukry (aka the worst taxi driver ever) was hungry for a victory on homeground. On the other hand, young British Junior Open Champion, Ahmad Al-Saraj, the only BO champion Jordan ever bore, had nothing to lose, just back from Kuwait where he lost in the quarters and playing very well.

Andrew was on paper the better player, but lacking match fitness. As in, mentally, he was dropping in and out of the match. Al-Saraj is such a talented player, but who sometimes can just have focus lapses, and his dad – bless him – was reminding him rather loudly that it would be a good idea to play squash….


Andrew took the first one on his second game ball, 11/8, but was completely dominated in the second, 9/2 when a bit of a strange call – no let for what seemed like a simple basic let – at 4/9 set him on fire, pushing him in a matter of minutes back to 8/10. It was to enough, the Jordan player levelling the matters to 1/1, 11/8.

Third was very close up to 6/7 Saraj to serve, but the Jordan seemed a bit tired, taking an awful long time to serve. He finally lost the game 11/7.

Fourth again was very disputed, even if Andrew was always a bit ahead, 4/1, but Al Saraj stayed in touch with the score, 6/8. He also saved two match balls to finally bow 11/7.
He looks like he is very relaxed on court, but he can produce a winner at any time! So you've got to keep on your toes at all times. He is playing very well, and had nothing to lose. But I was also very hungry for victory.

I just came back from injury, I went to Germany to have it sorted. And my first tournament back a couple of weeks ago in Houston didn't go well, I lost pretty quickly. Even today I could feel how I lack match fitness, but I hope it will come back soon

Andrew Wagih
[7] Ali Anwar Reda (Egy) 3-1 Mohamed El Tabaa (Egy) 11/8, 10/12, 11/3, 11/8 (40m)
TOO MUCH PRESSURE FOR MOHAMED ALI


Bless him. It's always the same when he plays in Egypt. He plays often very well indeed – I think to remember him beating Cameron Pilley in the Sky Open one year – if I'm not correct, please correct me Cam – but in the early rounds, he is normally extremely nervous. Of course nothing to do with the fact his dad is here and his wife! No pressure at all.

Result? A bit of a scrappy game at times, with Mohamed Ali and Mohamed El Tabaa making a few too many errors to have a fluid game. In and out focus wise both of them, still a logical winner at the end, the more experienced takes it in 4.
I was finding it difficult to play on the court, sometimes I thought I had to hit hard, but it wouldn't react as I was expect. But I guess it's more because I'm expecting too much of myself, I want to do too much, too many things with the ball.

The next round a very difficult match indeed, not only because Andrew is playing very well at the moment, but also because we train all the time together, and that's so hard to play a good friend of yours….

Ali Anwar Reda
[5] Mazen Hesham (Egy) 3-0 Hossam Nasser (Egy) 11/4, 11/1, 11/1 (14m)
MAZEN NO TROUBLE …


A first game that looked like we were going have a disputed game, but the second and third just went very fast indeed…
"I tried to keep the pace up and put pressure on him. But it's so hard, we train together all the time, my last training session two days ago was actually with him! So I didn't like the draw when I saw it!

I need to thank my two coaches at Wadi Degla, Karim Darwish and Haitham Effat, and of course, my fitness coach since forever, Mohamed Defrawy.

Mazen Hesham
[15] Abdulla Al Tamimi (Qat) 3-0 Ahmed Atef (Egy) 11/6, 11/8, 11/7 (22m)
ABDULLA IN FULL PROGRESSION


I can't believe how that young boy has changed, in the right way I mean. He used to be a bit of a cheeky lad, playing squash with great hands but a bit, well, superficial squash, flashy but not much substance.

Now he is a true squash player indeed. He trained with Rodney Martin at the start of the year, then went to Bristol and trained with the "Bagies" as he calls them, and all the players that play there. And of course, he is still training with Legend Geoff Hunt who although being back in Australia after several years as head coach in Qatar, is still following his protégé on a few PSA tournaments per year.

I feel that we'll hear more and more of this young man. "I am still cheeky, Fram" he says with a smile. That's ok, dear boy, when you have the speed you have, the deception skills you have and the will to improve, you have the right to be cheeky…
CAUTION: PLAYERS MELTING DOWN….

Vice-World Junior Champion (twice) versus current World Junior Champion. And remarkably, the first time they played against each other.

First game, Abouelghar in control from 6/6, despite a few unforced errors, taking it 11/6. Then no idea what happens in Abou's brain. Tin after tin after tin, he sorts of offers the game to his opponent on a plate, and is down 9/3. Hammamy takes it 11/7.

Third is about the same story, Abou tins away, and is trading 8/4, 9/5. He finally starts to be a bit more patient, finds more length, and scores 5 points in a row to equalise at 10/10. A lovely drop shot from Karim and a final tin from Abou, and the World Champion is up 2/1. Are we going to see a big upset, with the #172 taking out the #57?


It certainly looks like it in the 4th. Karim, full of the confidence that comes from being 18 and 2/1 up, strings the points away, finding beautiful shots – as he would. Again, he is up 8/4. Abouelghar starts to focus again, and claws back to 6/8. A 9/6, a superb drill in Karim's back of the knee stops the play for a few seconds. Any other player, I would have a doubt of the intention, but knowing Abouelghar, I'm sure it's not intentional. Still, painful!

And Karim gives it a big push, and gets his first match ball, 10/8. Superb winner from Abouelghar. And if Abouelghar seemed to melt down in the 2nd and 3rd, it's now his opponent's turn: he'll tin the next 3 points to lose the game 12/10, and somehow his spirit: he will never recover mentally for those two lost match balls, and Abouelghar "lives another day"…. Hard lesson for the World Junior Champion. A match is never won. A match is never lost.
I don't think I played the right tactic against him in the second, third and fourth: too short too early. It was the first time I played him, and I found it very difficult to read his game: he's got a very unique style, and I just couldn't see the ball.

I'm truly sorry I hit him in the 4th, I really didn't do it in purpose, I often play that cross court, and so does he. But I think he anticipated me volleying. I'm again very sorry.

Of course, I'm not happy with my performance, but I kept saying to myself "come on, things can't go your way all the time". Sometimes, you've just got to hang in there, and it's not pretty. It couldn't have been closer than that, unless he won it of course.

He is such a good player, we'll play many more times each other I'm sure, and I get to live another day….

Mohamed Abouelghar