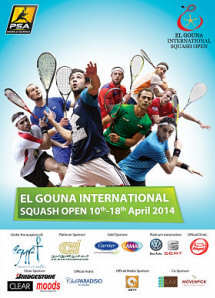 TODAY at the El Gouna International ...
Sat 12th April, Day THREE


The 2014 edition of the El Gouna International continued today with the third and final of three days of qualifying at the Movenpick Hotel.

All eight matches were hotly-contested, with places in the main draw of the $115k World Series event up for grabs - with four of those places going the way of hosts Egypt.
12-Apr, Qualifying Finals:

[3] Grégoire Marche (Fra) 3-2 [12] Jaymie Haycocks (Eng) 6/11, 11/9, 8/11, 11/7, 11/8 (77m)
plays Rosner
[7] Ali Anwar Reda (Egy) 3-1 [13] Andrew Wagih (Egy) 11/7, 11/2, 9/11, 11/9 (60m)
plays Darwish
[5] Mazen Hesham (Egy) 3-0 [15] Abdulla Al Tamimi (Qat) 11/7, 11/8, 11/5 (35m)
plays Castagnet
[2] Omar Abdel Meguid (Egy) 3-2 [10] Mohamed Abouelghar (Egy) 7/11, 6/11, 11/4, 11/9, 11/9 (64m)
plays Anjema
[1] Ong Beng Hee (Mas) 3-0 [9] Eddie Charlton (Eng) 11/4, 11/6, 11/6 (44m)
plays Coppinger
[11] Fares Dessouki (Egy) 3-1 [8] Omar Abdel Aziz (Egy) 9/11, 11/4, 11/9, 11/8 (60m)
plays Momen
[6] Henrik Mustonen (Fin) 3-1 [14] Lucas Serme (Fra) 11/9, 11/9, 5/11, 11/8 (57m)
plays Barker
[4] Max Lee (Hkg) 3-1 Mohamed Elgawarhy (Egy) 11/3, 10/12, 11/3, 11/5 (41m)
plays Mosaad
[3] Grégoire Marche (Fra) 3-2 [12] Jaymie Haycocks (Eng)
6/11, 11/9, 8/11, 11/7, 11/8 (77m)

LITTLE GREG… BUT ONLY JUST

This is going to be a loooong day, and I wish I had 1 hour to write this report. Because the quality of squash that Jaymie Haycock displayed tonight deserve that. What this player showed us today was a tactical masterclass.

Looking at him, I was thinking, if I had a kid, I would like Jaymie to teach him squash. The quality of shots in particular on the backhand, the tactical construction – every shot with a purpose – the long drop shots, the boasting, the drives glued to the walls, and the lobs that kept dying at the back, and not forgetting the best part, the delaying…

Greg Marche is "lucky" today. He was lucky that Jaymie got a bit tired in the middle of the 5th, and at 6/6, goes for two quicky shots at the front that find the tin. Plus a winner from Greg after, that takes the French to 9/6. And psychologically, it's hard to come from there…

But what a Masterclass, what a beautiful squash Jaymie showed today. His third game, well, I've personally didn't see that quality of squash that often in my career.

I have to admit I don't enjoy that time of match, I struggle a bit – especially as I fought with the mosquitos big time last night, only slept about 5 hours! Still, I woke up early and did my warm up, so I was ready, but it's true I prefer to play later… Still, got to do with what we are given, not a problem.

I was immensely impressed by Jaymie's performance today, I knew he was playing very well, that he was having some good results, and that under no circumstances, I should take him lightly.

But even knowing all that, he really was amazing, in particular on the backhand, not a shot that was not tight to the wall. He was so accurate, so rigorous in his shots, and there was not one shot that was not difficult to return.

And as the court was dead at the back, his lobs would die nicely! I think that at the end, he made a few errors at the right time for me, and that helped..

Greg Marche
[7] Ali Anwar Reda (Egy) 3-1 [13] Andrew Wagih (Egy)
11/7, 11/2, 9/11, 11/9 (60m)

ANDREW, A BIT SHORT, MOHAMED ALI SUPERB…

Again, very little time to write a report. I'm not going to dwell on the refereeing, which was as far as I'm concerned, a Russian roulette. Never knew what was going to come out of the cannon, and after a while, you just wait for the BANG! So of course, the players start arguing/comment every single decision. Great fun….

Game wise, I feel that Mohamed Ali was superior today. His game plan was sharper, and his shots at the front were lethal. Andrew had some moments of splendour, and they both gave everything they had.

But like he mentioned on the first day, Andrew comes back from injury, and you could feel he was a bit short on the focus side of things. Not to mention that at the end, he was pretty tired, while Mohamed Ali was still full of beans. A logical result to be fair, although Andrew come very close to force a decider, flying all around on the court, saving 2 match balls to only bow 11/9….

So difficult to play against a very good friend of yours. But I think I managed to play a good squash in the first two games. In the 3rd, he changed his tactic, and it took me a while to adapt to it, I came back from 6/1 down, and the same again in the 4th.

And I realise that he was reading my drop shots very well, especially on the backhand, and moving pretty quickly on them – which led the refs to believe I have not clearing the ball fast enough, it was just him getting too fast on it! So I varied a bit my shots, crosscourted more, and boast as well, to then come back to my drop shots and make winners out of them again…

So happy to be back in the main draw of El Gouna….

Ali Anwar Reda
[5] Mazen Hesham (Egy) 3-0 [15] Abdulla Al Tamimi (Qat)
11/7, 11/8, 11/5 (35m)

ABDULLA IN EXHIBITION MODE….

"I'm fine, I'm not injured, I'm just tired", confessed the 19 years old Qatari after his "exhibition" about "not in exhibition mode AT ALL" Mazen Sabry.

Basically, on one side, we had a very intense/determined/hungry young 20 years old, playing home in front of his coaches/family/friends, and another young man, that just had a long season and had decided to play a nick at every shot.

Result, some super/fast/ridiculous squash at times, some fun stuff from Abdulla, but most of the time, Mazen in control and dominating the rallies. The Egyptian was pretty emotional at the end. Image that: it's the first time ever he qualifies for a main draw…

Yes, I know I'm too intense, everybody keeps on telling me I need to calm down. I'm trying but it's my character, I'm soo sorry! I'm trying to calm down, I'm doing my best.

Today, I knew that Abdulla was tired, and that he was going to go for an exhibition mode, but if I was expecting a few nice shots, but he was playing all the shots in the nick! I think the court suited him as well…

Sooo happy to qualify for my first ever main draw, I need to thank my coaches, Karim Darwish and Haithan Effat, and my fitness coach, Mohamed Defrawy….

Mazen Hesham
[2] Omar Abdel Meguid (Egy) 3-2 [10] Mohamed Abouelghar (Egy)
7/11, 6/11, 11/4, 11/9, 11/9 (64m)

EGYPTIAN DUEL…

It was always to be a hard and difficult match that one. Well actually, if you look at today's schedule, it's funny, as all the non Egyptians play each other, and the Egyptians play each other. Quite remarkable, how a computer can play funny tricks! Gives us the opportunity to see stunning matches though…

Back to the match. Meguid and Abouelghar are very close friends. Omar used to coach Abou a few years ago, and he actually helped him when he was losing and the match, and the plot against World Junior Champion Hammamy on the first round of the qualifying two days ago. "I didn't want to coach him, but I had to. I didn't want to play him, obviously, but I just couldn't not help him," Omar told me after that match…

Omar had all the pressure as he is ranked much higher than the young man, #28 to #57. And as he was in a bit of trouble after his last match in the States with the refs, he really wanted to "not say a word for a whole match".

That he did well. Thanks to the excellent refereeing from World Referee John Massarella, there were very little words exchanged between the players and the refs. When a player was questioning a decision, he had a simple, precise and may I say accurate answer. And the players just accepted it. Simple. Basic. Compulsory.

Abouelghar as he often does, played sublime shots that are not invented yet, and also verrrrry bad ones. But as he led 2/0, he looked pretty good. As for Meguid, as ever, he was not enjoying his squash. Tense as a violin cord, he always seem to play as if he is punishing himself. Too tense. Too pressurised. Too many things in his head.

"I have the impression the side walls are getting closer and that the ceiling is getting lower" said Abouelghar during his match against Hammamy. "Welcome to my world" Meguid replied.

In the 5th, after coming back from 2/0, Meguid seemed to lose his focus from 5/5, and went down 6/8. Finding his head/shots again, closed things out at 8/8. Nothing between the players. The crowd is loving it. Some stunning rallies, Meguid is flying on the shots, sometimes two, three times per rally, while Abou is finding amazing nicks. Match ball for Meguid, 10/8. Abouelghar is giving it a last big push.

Meguid flies on the right. Recovers. Flies on the left. Another sublime shot, one match ball saved, with a gigantic YALLAAAAAAA from Abou. But a short rally, Abou just doesn't read at all a simple backhand drop shot from his opponent. Match to Meguid. A lovely embrace between the two. And a very emotional Meguid "Too much pressure. Too many things going on my head. I'm just glad I came back."

Today, the match was in those two players' head. And today, Meguid's demons were less loud than Abouelghar's.

Squash, a mental game? You can say that again.
[1] Ong Beng Hee (Mas) 3-0 [9] Eddie Charlton (Eng)
11/4, 11/6, 11/6 (44m)

BENG HEE SO GOOD AT BEING BENG HEE…

Beng Hee displayed again a stunning experienced squash against young Eddie Charlton. Ben Hee just sloooooowed the game down to a standstill really, leaving the Englishman to generate his own power. At that game, of course, one gets frustrated, and ends up playing a lot of unforced errors…

Exactly.

Beng Hee just kept sending the ball back, and Eddie tried to hit it. Eddie lost a lot of energy at that game and got more and more frustrated as the game went along. BH, just flick the ball here and there, as one does… Normal day at the office for the Malaysian.

"Those young and hungry players, of course they want to play as fast as possible. But us, older players, we want to play as slow as possible. And today, it worked for me rather well.

He got frustrated especially after the middle of the games. Plus, he is just back from playing a final, and although he was fine physically, maybe, maybe he was quite logically a bit flat mentally today."

Ong Beng Hee
[11] Fares Dessouki (Egy) 3-1 [8] Omar Abdel Aziz (Egy)
9/11, 11/4, 11/9, 11/8 (60m)

TESTESTERONE AND CHANGING
OF THE GUARD…

On my left, 30 year old Aziz, #43, unique style, moves a bit like a duck, retrieving a heck of a lot, and so efficient not to mention extremely experienced. Not ready to retire yet…

On my right, 19 year old Fares Dessouki, #55, hungry and so gifted, but loving the tin so much he keeps sending it shots on a regular basis. Quite keen to a changing the guard….

Those two already had an encounter in India recently, where Fares took a heating 3/2. So, there was maybe a bit of history there…

The last two games were very intense, very intense indeed, and it could have gone either way, especially the 3rd where Aziz came back from 1/5 2/7 to level it at 7/7, scoring 6 points in a row. 8/8. 9/9. Amazing rallies, a loud (too loud?) COME ON on the game ball 10/9, and a tin for a frustrated Aziz, 11/9. The fourth is about as close in the end, 6/6, 8/8, but Fares finds some beautiful winners to take the match, 11/8.

Long story short, a few words in Arabic which I'm told were not nice, a little block here and there, some very intense/adrenaline pushing rallies at the end, and we have a big explosion at the end, with Aziz apparently saying something that didn't sound right to Fares' ears, and the young man having to be stopped from having a close explanation with his opponent.

A lot of testosterone running, a bit of a volatile situation for a few seconds, but it all calmed down after a few minutes. I'm sure that a good explanation will sort it out, as those two will have many other occasions to play against each other…

[6] Henrik Mustonen (Fin) 3-1 [14] Lucas Serme (Fra)
11/9, 11/9, 5/11, 11/8 (57m)

HENRIK IN GREAT FORM

If Lucas Serme was in mode "I just finished my exam, what does a racquet squash look like" before he arrived on this tournament, Henrik Mustonen was in great shape and really hungry. Still, all the games that Henrik won were extremely close with Lucas trading to start with, and coming back in the game.

I feel that Lucas was a bit flat tonight, and a bit too reactive, not pro active. Plus a bit of a tactical mistakes (too many cross courts, and playing a bit too fast to start with). But that didn't prevent him to dig in deep and get the best out of his current form, taking the third, and threatening Henrik from 10/5 match ball in the 4th, saving 3 match balls. The crowd saluted the warriors, a long clapping, well deserved, as we really enjoyed that not too intense/testoteronic game….

I truly enjoy those long rallies, with no stoppages, I feel that's where I play my best squash. The second had a few of those stop/starts, but I managed to win that game, which I think was crucial.

When Lucas was playing at a slow pace, he was making me work much harder. But when I managed to keep the pace up, I was creating more damage and hurt him more physically I think.

Henrik Mustonen

I realise how fitness short I am, but then again, he played so well, and retrieved everything. I was trying to play too fast to start with, and apparently, Grégoire and Mathieu told me that he was enjoying it, so I changed and got back into it.

It's a shame I was not able to do that from the start, but I was not thinking too clearly! It's always when you need to think the most that your brain seems to work very slowly…

Lucas Serme
[4] Max Lee (Hkg) 3-1 Mohamed Elgawarhy (Egy)
11/3, 10/12, 11/3, 11/5 (41m)

MOHAMED TOO UP AND DOWN

One of those young kids extremely gifted, no fear of losing, no pressure, attacking everything, but finding beautiful nicks as well as tins.

Max just weathered the storm, although Mohamed got the second 12/10 on his second attempt.

At the end, Mohamed went into exhibition mode and Max just closed it down…