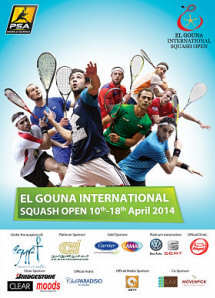 TODAY at the El Gouna International ...
Fri 11th April, Day TWO


The 2014 edition of the El Gouna International continued today with the second of three days of qualifying at the Movenpick Hotel, and today's top half first round matches once again all featured Egyptian players.

Top seed and new father Ong Beng Hee started the day off, and as yesterday it was the seeded players who progressed, including Egyptians Fares Dessouki and Omar Abdel Aziz who will meet each other in the qualifying finals.

It wasn't until the last match of the day that the winning run of the seeds was finally broken as Mohamed Elgawarhy came from a game down and 0-7 in the second to beat Ammar Altamimi, the 16th seed, in four games.

That all sets up some enticing qualifying finals tomorrow, with eight Egyptians in action and at least three spots in the main draw for the hosts.
11-Apr, Round One Top Half:

[1] Ong Beng Hee (Mas) 3-0 Karim Ibrahim (Egy) 11/7, 11/5, 11/5 (30m)
[9] Eddie Charlton (Eng) 3-1 Yossef Khaled (Egy) 6/11, 11/6, 11/6, 11/5 (52m)

[11] Fares Dessouki (Egy) 3-0 Youssef Soliman (Egy) 11/6, 11/7, 11/7 (30m)
[8] Omar Abdel Aziz (Egy) 3-0 Omar Elatmas (Egy) 11/8, 11/1, 11/4 (42m)

[6] Henrik Mustonen (Fin) 3-0 Ahmed Hussein (Egy) 11/0, 11/8, 11/6 (25m)
[14] Lucas Serme (Fra) 3-0 Basem Tarabishy (Egy) 11/5, 11/5, 11/3 (29m)

Mohamed Elgawarhy (Egy) 3-1 [16] Ammar Altamimi (Kuw) 9/11, 12/10, 11/9, 11/3 (45m)
[4] Max Lee (Hkg) 3-0 Mazen Gamal (Egy) w/o
[1] Ong Beng Hee (Mas) 3-0 Karim Ibrahim (Egy)
11/7, 11/5, 11/5 (30m)

KARIM HAS BEEN BENG HEED…

Let me start to say that Beng Hee has lost the baby fat very quickly, as Jannelle was born on the 4th, and he looks as trimmed as ever!!!

Joke apart, so nice to see the Malaysian back and playing his normal, I lob you to the back, then deceived you to the front, then sends you on the other side at the back, and trickle boast you at the front…

At that game, young Karim Ibrahim lost a lot of energy, and by the middle of the second, was struggling a bit fitnesswise, especially as he's been suffering from a ankle injury for a few months now.

So, the brain was working fine, the shots were there, but just a bit short physically at times, and a fraction late counterattacking, hence a few too many unforced errors. But coach Karim Darwish can be proud, his player didn't give up at any time, was patient and played an excellent game.

Well, it's nice to be back on a squash court, as for the past few months, squash has been a bit secondary in my life, with Winnie first (my wife) then the arrival of Jan.

So it's a bit strange to be here in the qualifications, but then again, whether it's qualifications or main draw, you still have got to win. And if you are in the main draw and lose in the first round, that's not good either. So, I think it's actually good that I get to play in the qualifying, it allows me to find my marks.

As for the baby, she is amazing, and it was a special moment, being in the operating room, and seeing what was going on. The things that come out of a woman body during the birth, HOLLY SHIT!

I always had huge respect for women, but after seeing what they go through, I have even more respect now. The pain Winnie went through at the start and at the end…. It's just…

Anyway, I've got to keep winning now, need to pay for the powder milk…


[9] Eddie Charlton (Eng) 3-1 Yossef Khaled (Egy)
6/11, 11/6, 11/6, 11/5 (52m)

EDDIE, EVENTUALLY…

As Wael said one day, "we've got to find that factory that produces Egyptian squash players and shut it down". And I could feel that was exactly what Eddie was thinking as he saw the first game go right in front of his racquet, not doing much wrong, and still losing it 11/6!

The second and the third, Eddie closed down his game a bit, and made it as hard as possible for Yossef, making him work very hard physically. 1/1. 2/2. 3/3. 4/4. 5/5. 6/6. Disputed rallies, nice varied game, nice game. But as Yossef got a bit tired, a bit of blocking crept in, and a bit of fishing as well. Shame, as he is talented enough to play without it. I think/hope that once he gets a bit fitter, he won't have to use that sort of tactics to play, and win…

All credit to Eddie to have played the right tactic. Yossef was hitting hard enough and found enough lovely winners to really threaten the Englishman.

The good thing when you come and play a tournament in Egypt, is that sometimes you can get a bit complacent in the first rounds of qualifying, as you play locals. But here, any local can really cause you a lot of trouble, so you've got to be focused at all times, otherwise it won't be long before you get a nick rolling in front of your feet, normally followed by a fist pump and a loud "Yalla!!!"

At 6/6 in the 2nd (and same in the 3rd), I think I focused a bit better, and I guess that's when experience comes in. Still, I feel I should have taken more chances, because when you play those young Egyptians, you've got to take the opportunity when it presents itself, because it doesn't happen often!

But you know, it's really good, you see those young kids, 16, 17, you see how hungry and aggressive they are, how much they want it, the "taking you by the throat and not letting go", and that's good. I'm learning a lot from watching them and playing against them…


[11] Fares Dessouki (Egy) 3-0 Youssef Soliman (Egy)
11/6, 11/7, 11/7 (30m)

FARES, IN ANOTHER LEAGUE

I hope Youssef won't mind, but today, Fares Dessouki was just the better player. Youssef didn't do much wrong mind, he played a very mature game for a 17 years old. He never went for the short cuts, straighten the ball well, and was patient enough. But his opponent, 55 in the world, was just too accurate at the back and lethal at the front today.

The third was a bit closer as Fares maybe relaxed a bit. And it was enough for his opponent to give it a big push, getting as close at 7/8. But Fares, feeling the danger, just put just a bit more gas, just enough to win…

We are very good friends, and I know how talented he is. He doesn't play a teenager squash, he is really playing like a professional. I had to be focused and use all my effors to win this match. I played at a very fast pace, and made sure that I kept the ball stuck to the wall.

I'm going to prepare for my match tomorrow. I really want to play well in Egypt. I want to be amongst the best players in my country. And I really enjoy playing in front of an Egyptian crowd, it's so friendly. I feel comfortable. Plus, when we played the Misr Bank Sky Open in November, all my friends, all my family was watching my matches on TV. And I loved it, it makes you feel really good, really special. That doesn't happen when I play anywhere else…


[8] Omar Abdel Aziz (Egy) 3-0 Omar Elatmas (Egy)
11/8, 11/1, 11/4 (42m)

AZIZ WINS THE OMARS BATTLE

We had two Omars battling away today, and the experience overtook youth, as often in Squash…

Another extremely talented young player in Omar Elatmas. Good spirit, good fitness, good hand, and an excellent attitude on court. He is credit to Egyptian squash, and I hope to see him again soon on court. Even led 9/1, he kept on attacking and running and retrieving relentlessly. Captain Mohamed Samir and Andrew Wagih can be proud of him. Truly.

As for Aziz, we all know… He is such a funny character, unique style indeed, heart of gold, cheeky sense of humour bless him. And a clever punter too…. PSA Circuit is a good place because we have characters like him…

I coached the U19 team in Poland, so I know each and every one of them! And I know how good his shots are, but I also know that he doesn't like to be twisted and turned. So that's what I kept doing, even when I was not attacking, and I think that he was having troubles reading my shots….

He tried very hard in the first game, and I think I was able to take the gas right out of him! Still he kept stepping up with his shots, all credit to him.

Tomorrow, a bigger battle awaits, against Mr Fares Dessouki, probably one of the toughest qualifiers, under this amazing and relaxing weather…


[6] Henrik Mustonen (Fin) 3-0 Ahmed Hussein (Egy)
11/0, 11/8, 11/6 (25m)

HENRIK ON FIRE…

It's not that Ahmed did much wrong in the first game – the score doesn't tell the whole story, but Henrik just didn't take any prisoners today.

It got a bit better in the second – well, from 11/0, it can't get worst can it – rallies got a bit longer, and Henrik was pushed into making a few errors, but there was always going to be only one winner tonight…

Yes, little time on the court today, but if you count the hours spent flying – or waiting in airport, it's a lot of work still…

At the end of the year, I had a bit of a bad time, my hamstring injury flared up again, and Motor City was my first tournament back, and it was a good tournament for me. But then, my injury seemed to impair my recovery (which up to now was one of my strength) and the next tournament was a bit difficult. And with my style of play, I need my confidence, and my fitness in place..

I've played so many league matches recently, but I was playing so badly all my teams lost! Well, all but the Swiss one, where Nicolas managed to play so well that we won… Still, I was getting a bit tired, 3 matches per week, plus the travelling. But now, I had about a week off, and I'm hungry again for this tournament, so that's good.

And today, we just didn't know what to expect, as we never played each other, but I managed to surprise him more than he surprised me…


[14] Lucas Serme (Fra) 3-0 Basem Tarabishy (Egy)
11/5, 11/5, 11/3 (29m)

LUCAS JUST FRESH FROM EXAMS

A few nice rallies between Lucas Serme, 22 years old, WR67, and Basem Tarabishy, 27, WR333. Lucas arrived this morning from Bristol after his exams, but although he made a few unforced errors, you could feel he was still the fitter of the two… Basem has a lethal backhand boast, and has some pretty nice hands. But he was a bit short physically, and Lucas took full advantage of it.

I was passing my Final Presentation yesterday in Bristol, so it was very important, I couldn't miss it! So flying here this morning, a bit focus weary, having trouble to see the ball soon enough, but the movement was ok.

I had a bit of a funny time, HK was a good tournament, a good London Open, then I got a nasty back injury, 3 weeks unable to do anything, so TOC was out. Then came back for our Nationals, a very good event for me, a major battle with Mathieu in the semis, very happy with my tournament. But unfortunately, that flared up my back injury, against out of it for 3 weeks! But a good tournament in Salzburg, I finally managed to beat Kristian Frost – we met in Manchester in the final of the qualifiers, a marathon that I lost, and that taught me a lot.

So happy to be here, with the first round of qualifiers out of the way, tomorrow, I won't have the same pressure… And the back is holding so far, so it's all good…


Mohamed Elgawarhy (Egy) 3-1 [16] Ammar Altamimi (Kuw)
9/11, 12/10, 11/9, 11/3 (45m)

AMMAR LACKED LEGS….

Well, that comes from having good results from a tournament really. Ammar Altmamimi had a great run in the KW circuit that finished only 2 days ago, finishing in the semis and mentally as well as physically, was just a bit short. And against a former BO Junior U17 champion, hungry as it comes, it was never going to be easy…

First game was close, never more than a point between those two, but the Kuwaiti takes it, 11/9. But Amar will kick himself from here to Kuwait City from letting a 7/0 9/3 lead slip in the 2nd… Mohamed Algawarhy scored 4 points in a row to come back to 7/9, then saved 3 game balls, scoring 5 points to clinch the game 12/10, helped by a long string of unforced errors from his opponent.

And again in the 3rd, Amar had come back in the match, leading comfortably 6/3, but made again some errors, while Mohamed was giving it all he had. 6/6. 7/7. 8/8. 9/9. A miss hit and a no let later, Mohamed was leading 2 games to one… And the 4th, Amar was just not there mentally anymore…

I'm not happy with my performance, I played far too many crosscourts, my short game was just not good enough, or it was in the tin, or it was too high. I'm really lucky that he got tired…

Still, I need to thank Aziz and Captain Sherine for their help and coaching all year long.



I don't know, I was just not fit enough I think. I was playing well in the first game, and I was leading in each game but the 4th. Too many errors, not good enough, I was just a bit short today.