Wed 25th April, Day Eight: QUARTERS (B)
The 7th Edition of #ELGOUNASQUASH continues tonight with 4 quarter-finals in the bottom half of the draws (and it's Day Four of the MASTERS).
Second and Third seeds through to semis


No upsets in the second set of quarter-finals, with three quick Egyptian wins followed by a hard-fought win for the defending champion on a blustery night at Abu Tig Marina.
After a close first game, Nour El Tayeb took control against A;ison Waters, and she'll meet compatriot Raneem El Welily for a place in the final after the World Champion despatched Annie Au in double quick time.
Ali Farag was in sublime form against Tarek Momen, who struggled with the contitions, setting up an enticing semifinal against defending champion Gregory Gaultier, who came through a tough four game battle with Miguel Rodriguez.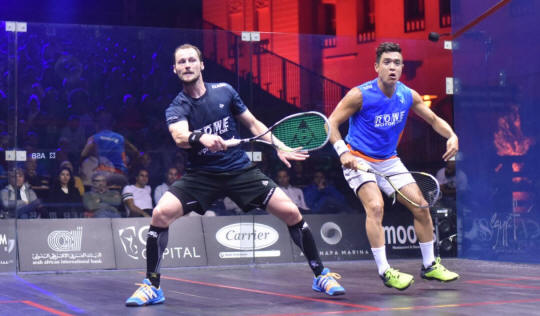 Quarter-Finals (bottom)

[3] Nour El Tayeb (Egy) 3-0 Alison Waters (Eng)
12-10, 11-6, 11-7 (30m)
[2] Raneem El Welily (Egy) 3-0 Annie Au (Hkg)
11-4, 11-5, 11-8 (23m)

[3] Ali Farag (Egy) 3-0 [6] Tarek Momen (Egy)
11-4, 11-3, 11-7 (33m)
[2] Gregory Gaultier (Fra) 3-1 Miguel Rodriguez (Col)
11-9, 8-11, 11-6, 11-7 (70m)



check the BLOG for Reports and much much more
As usual you can watch live on various channels (SquashTV / Eurosport), follow the updates on our Blog, and we'll have a roundup here at the end of play.