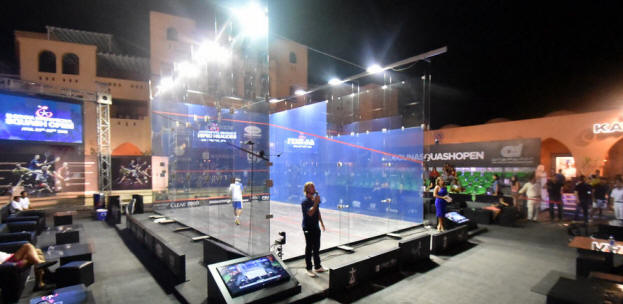 Mon 25th April - Round One - Bottom:


Six Egyptians through
but defending champion Ramy is out

It was the turn of those in the bottom half of the draw today, four afternoon matches at the Movenpick and four evening matches at the Marina.

The Movenpick matches produced four Egyptian winners with notable wins for qualifier Omar Abdel Meguid, and Fares Dessouki over Daryl Selby.


The evening matches saw a big upset as three-time defending champion Ramy Ashour retired after losing the first two games to Marwan Elshorbagy.

The other matches all went to seeding as world champion Gregory Gaultier finished off the day with a 13th successive 3-0 win over Tom Richards.
Marina:
[6] Karim Abdel Gawad (Egy) 3-1 Ryan Cuskelly (Aus) 8/11, 11/7, 11/7, 11/5 (66m)
Steve Coppinger (Rsa) 3-2 [Q] Abdulla Al Tamimi (Qat) 11/9,11/9,9/11,3/11,11/3 (61m)
Marwan Elshorbagy (Egy) 3-0 [4] Ramy Ashour (Egy) 12/10, 11/6 rtd (19m)
[2] Gregory Gaultier (Fra) 3-0 Tom Richards (Eng) 11/6, 11/8, 11/4 (36m)

Movenpick:
Fares Dessouki (Egy) 3-2 Daryl Selby (Eng) 8/11, 11/5, 11/3, 5/11, 11/8 (75m)
Ali Farag (Egy) 3-0 [Q] Nicolas Mueller (Sui) 11/7, 11/6, 11/7 (23m)
[Q] Omar Abdel Meguid (Egy) 3-2 Max Lee (Hkg) 2/11, 12/10, 4/11, 16/14, 11/6 (75m)
[5] Tarek Momen (Egy) 3-1 [Q] Gregoire Marche (Fra) 6/11, 12/10, 11/9, 11/6 (65m)