[6] Camille Serme (Fra) 3-1
[3] Laura Massaro (Eng) 11-3, 11-5, 8-11, 11-8 (51m)
CAMILLE ENTRE DANS LíHISTOIRE

Yes. Camille has today entered History. Like Grťgory Gaultier and Thierry entered it a few years ago, playing the first ever All French Final of the British Open. Camille is now the British Open Champion.


Never easy was the match, as if Laura started slowly in the first two games, she was in fire from that point on! It was a bit expected that the English 2013 title holder would feel a bit heavy legs today. Well, like she mentioned after her match, she hadnít played Nicol in a semi for 3 years, and mentally, physically, a win over Nicol used to mean the end of the tournament!

But this time, it wasnít. And the brave English player had to do it all over again today. And down 2/0, she nearly did it too! After losing the first two games quickly, 3 and 5 in 7 and 9m, we knew when we heard her COME OOOOOOOOON at 2/2 in the third that we were in for a match! Very close between them two up to 6/6.

Camille loses her length and precision on the backhand that was her amazing weapon up to then, all credit to Laura that hits much harder, much more positive coming from the English. 10/6, 11/8 in 14 much longer minutes.

The crowd, a bit quiet, came to life to support their girl. Surely, SURELY they could do it again. And in a nail bitting 4th we went. Close, oh so close, 1/1, 2/2, 3/3, 4/4, 6/6. Laura gets a two points cushion, 8/6.

Camille scores the next 5 points, completely in the zone, while Lauraís heavy match of the previous day seemed to suddenly dwell on her. 11/8, 11m.


Camille just cannot believe it. Very emotional, she has the smile of complete blissÖ Why is beyond me. Itís not like she won the Title she ever dreamed of or anythingÖ

Just to finish a few stats, 29 winners for 9 unforced errors. Quite immaculate squash really.
I canít believe it. Itís amazing. I canít believe it.

Strangely, I didnít feel the pressure at the start of the match, I just did what I had to do on the court. But in the third, she played much better, she is such a fighter, as I played I was admiring the fighter she is, her fighting spirit. And I KNEW she would never give up, even from 2/0 down.

I didnít worry after losing the third, I just thought ok, get back on the game plan, volleying as much I was could, that was the key today. Yes, my shots on the backhand was not too bad. I just tried to volley more, and close the match as soon as I could.

I donít realise what just happened yet. I came here hoping to win the first two rounds, and not do what I did last year, losing in the second round. This is so big for me. I can finally start and believe in my game, in my abilities.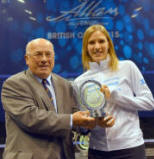 ďIím disappointed but Iím proud of my week and I donít feel like I really could have given it much more out there. It was a really big win yesterday beating Nicol and obviously that match just took a little bit too much out of me. It was 75-80 minutes and it proved to be a little bit too far with Camille being as fresh as she was.

"There are always fine lines. Weíre both really professional, we both train hard and try to do the best that we can do. Iíve had the better of her in recent times so this is fair play. She played a bit better than me today.Ē