TODAY at the Al-Ahram Squash Open
Fri 23-Sep, Day SEVEN, FINALS:

[3] Raneem El Welily (Egy) 3-2 [1] Nour El Sherbini (Egy)
11/5, 11/9, 9/11, 9/11, 11/7 (61m)

[3] Karim Abdel Gawad (Egy) 3-0 [4] Ali Farag (Egy)
11/4, 11/7, 11/5 (40m)

Raneem and Karim are the Al-Ahram Champions

Raneem El Welily came through a terrific five-setter in front of a packed crowd at the Pyramids of Giza, while Karim Abdel Gawad beat Ali Farag in straight games to claim his biggest title.




It was not an easy match, one minute, I was losing, then the next minute I was wining, and thought I was getting it back together, and then it was running away from me again…

She played perfect squash, she didn't make the unforced errors that she can make sometimes.

I tried to stick to the game plan, but in the 5th, she took a strong lead and I just couldn't catch up with her

I am really really happy she finally is finding her squash again, she hasn't been playing the squash she can play for a while now, and truly I'm glad she is enjoying her squash again.

It was a tough battle, and I'm looking forward to our next hard battles…

Nour El Sherbini


RANEEM IS BACK

Funny you know, body language. You are probably not going to believe me and say yeah, right, but here it goes. When I saw how Raneem smiled, shone and held her head straight up as she was introduced all around the court before the match, I saw the Raneem in Alexandria, home and care free, relaxed and happy to be playing squash.

When was the last time that happened in a crucial match Raneem?

On the other side, Nour was scared. Nour was nervous, and not hitting the ball as freely as I've seen her play this week. Is it because she made a quick error she lost confidence in her short game? Was is the pressure that finally got to her? Was it well, just one of those days….

First game, 5m, Raneem is flying, her drop shots get win rallies in three shots, Nour doesn't seem to move freely, she is looking tense and nervous, 6/2, 10/4 11/5.

The second sees Nour hit harder, and Raneem making her first two unforced errors of the match, second and third rally. She won't make another one of the game, and if Nour seems in control, from 3/3, 5/3, 6/4, 9/5, Raneem gets the "let's play some magic at the front" switch on, and zoom, 6 points in a row, 11/9 in 10m.

At the point, things aren't looking good for the Sherbini camp. Raneem is still controlling the beginning of the third, 3/1, but from that point on, it's all point for point until 9/9. A sublime backhand drive that dies in the nick at the back, 10/9 game ball, and a magical volley drop shot nick to close the 13m game, the longest of the match.

A few errors at the start of the 4th, is Nour getting back in her nervous state of the beginning of the match? From 3/3, zoom to 8/4 for Raneem. She is looking good, but in a few superb quality squash, to be shown in squash academies, Nour claws back to 8/8, 9/9. Two fast pace, ridiculous squash rallies, and a stroke and a crosscourt nick later, back to the drawing board for Raneem, 11/9 Nour 12m, we are in a 5th…

But against all expectation – Nour had the momentum and could have made Raneem switch go on the off position – Raneem just atomises her opponent, no time wasted on long rallies, three shots suffice, 5/1, 7/2. And if Nour hangs in there, coming back as close as 7/9, in two short rallies and accurate short shots, Raneem clinches the match on her first attempt, 11/7, 10m game.

They could hear her roar back in Alexandria….

Like before every match of this event, I went on there with no expectations, with nothing in mind really and today, I didn't feel any pressure on me. Even after the 3rd and 4th, I thought I would start to feel pressure, or get nervous, but I surprised myself by coming back in the 5th extremely positive.

Nour is the best player out there at the moment in women squash - she played a great match today and really fought hard until the end and I think we both have it everything we had - which is fitting for this final

What makes the difference today I think is that I truly didn't mind losing. That made the difference.

I'm really happy I didn't disappoint my corner, in which there are so many people to thank.

Of course, Tarek and the whole family, and my friends for coming and supporting me every day this week. No doubt the support made the difference…

Moving on to the coaches, Haitham, Ahmed, I'm really happy that your efforts this summer didn't go to waste, and thank you for always being there, no matter what.

Thank you to Shabana, for been a coach nearly every day, a man of few words, but oh God does he make those words count and matter.

My physio Mohamed Amin, for the first time of my life, I have my own physio, just not A physio, but MY physio from the first match to the last match. That makes a huge difference;

My sponsors, Harrow Sports, Karim Darwish and Wadi Degla, Abu Qir Petroleum, Optimum Gym, Dura Clinic.

Of course, thanks to Amr Mansi, Omar Sherbini and his whole team, I could name all of them for the work they have done, it was a fantastic event,

And at least but not last, the Pyramides, Al-Ahram, for being kind of me.


ALI FLAT, KARIM STILL IN THE ZONE

When Karim was young, I called him Baby Shabana, as his game reminded me so much of the Legend. So I am going to adopt the nickname Omar Abdel Aziz, his coach, uses for him "LittleShabs". I like that.

Today, LittleShabs was tired, it was obvious, but still had energy and stamina. In front, Ali was flat, both mentally and physically.

First there was his enormous performance the night before against World number one Mohamed Shorbagy, but also, there was a bit of a controversy on the social media about a double bounce at 8/8 in the 3rd that Ali, who I nicknamed Fairest Farag as I always found him an extremely honest player, didn't call.

I know for a fact the fact he took a double bounce and realised it only afterwards, affected the young Cairo player very deeply. He apologised publicly to the squash fans all over the world, but I know the comments he read truly hurt him. And the little mental energy he had left after the tremendous achievement that is to beat a world number 1, was lost in that incident.

He would have needed both a huuuuge reserve of mental and physical energy to overcome LittleShabs today, let me tell you. And even if the Gezira player was less bouncing than the night before, he was still finding incredible volley drop shots, whereas Ali was fining tins, most of the time.

11/4 in 9 minutes in the first game, that's I think where Karim won the match. He just broke his opponent's spirit. Still, Ali didn't let go that easily. He hang in there in the 2nd, and from 6/3 down, he came back to 7/7, only to be unable to stop Karim from taking the second in 16 long minutes, 11/7.

The third is as they say a formality, 7/1, 8/3, with Karim taking the title in a 10m last game, 11/5….

From the first match in the event, the only thing I wanted was to enjoy my squash, take pleasure on the court, wining or losing was not my main focus.

We both played the best Egyptians in the world, all week! So we arrived in the final very tired physically. Today, I tried and be very strong mentally, and in particular in the first game, I wanted to show him that I was strong, and determined, and very focused.

As ever in all my events, I was feeling the pressure the night before, couldn't sleep, but the minute I put a foot on court, I didn't feel the pressure at all anymore. It was all gone, it does that to me every time.

Thanks to Ali, who played a great final, he is a great brother, and a close friend. Thanks to everyone who came and supported the event. The crowd has been extraordinary. Thanks to my team, Omar Abdel Aziz, Mohamed Abbas and Ali Smain. Thanks to Amr Mansi and his team, they made a dream, my dream come true.

At the beginning of the tournament, my only aim was to win my first round at CityView to get to play one match at the Al-Ahram. So I am so happy to hold and raise the trophy.

To be honest, I didn't think about the title at all, until I heard "Championship Ball". And that's when I realised I was about to win Al-Ahram. That's when it hit me….



I just couldn't find the fire today, not sure if it's my match yesterday, or the whole "doublebounce" affair that really affected me today, probably a combination of both.

I tried everything but Karim was just too good today.

Just wanted to say how safe is Egypt, and how good it is to come here, how good care we are taking care of our foreigners, and that you are all welcome here in Egypt every day.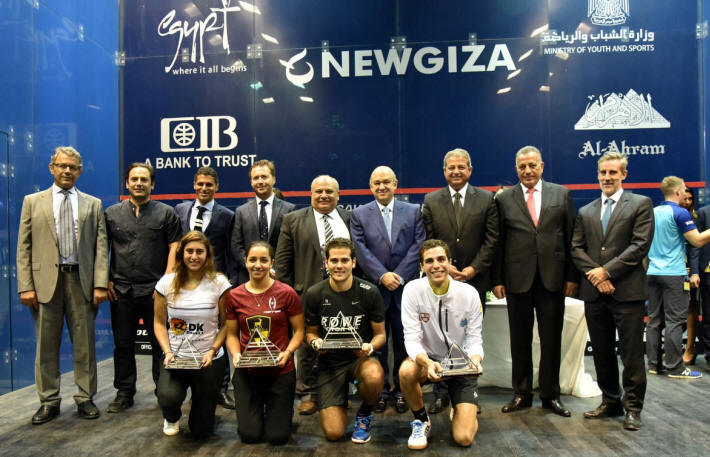 Thanks to my team for their remarkable job…

Amr Mansi

This is Egypt, Mabrouk Masr!!!!

Tourism Minister
Hisham Zazou

What an amazing venue, well done to everybody in Egypt

Alex Gough, PSA

We are so proud to be associated with the event, and to be here tonight. The event has been a huge success, and as our compound is very close from here, from Al-Ahram, it was obvious to us that we should support the event.

NewGiza has a very important focus on sports and our sport facilities are at the heart of our buildings. So it was also logical for us to support a sportive event.

Add to that Egyptian squash Players are the best in the world, we were proud to represent our country at the International level, and to prove once again – if proof needed – that Egypt is a country famous for his tourism hospitality….

Ramy Halabi, CCO of NewGiza
Karim has been to Hong Kong, China, back here, performing like a "LittleShabs".

At the moment, he is performing in the "zone" that Shabana displayed when he was world number 1, and he is becoming very difficult to play.

We sent him – Abbas and myself – to London with Ali Smain to work and improve his fitness condition, it paid off, while Abbas and myself are working on the tactical side of things. The boy is smart….

We are so happy for him, and so proud he is performing at that level.

Omar Abdel Aziz

After 10 years, we finally managed to get this tournament back on. It has not been easy, as there were so many hurdles on our way, so many different Ministries and paper work and authorisation, and logistics to get the event back on, the power supplies, the internet, the main area, security, etc,

etc etc.

I'm proud that during my presidency, we were able to bring back this iconic event, wherever we go abroad, the first question was always, "when are you going to bring back Al-Ahram?" It is now done, and whether I'm still here or not, I just hope we'll be able to carry it on, year after year.

I hope the Egyptian Government will support us more and more, as the event goes way beyond the Sportive Event it is, it's a whole symbol of our country.

Assem Khalifa, President of Egyptian Federation